Dear Library Lovers!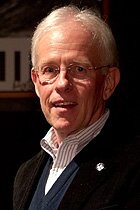 It is my pleasure to chair the Fairfax Library Foundation Board of Directors. I very much look forward to continuing to serve and represent the Foundation, our friends and our donors in the coming year.
The Fairfax Library Foundation is a private, nonprofit corporation established in 1994 and dedicated to providing supplementary support to the 23-branch library system in Fairfax County and the City of Fairfax. In 2014 we proudly celebrate our 20th Anniversary! Through the charitable donations of individuals, businesses, and other organizations, the Fairfax Library Foundation will continue to sponsor programs within our libraries and in the greater community, and will purchase much needed books and non-print materials such as e-books. Some of the programs we sponsor include:
Changing Lives Through Literature, that gives first time juvenile offenders an alternative to formal court action by teaching values through literature,
Ready to Read Early Literacy Outreach, which allows interactive reading activities to be brought to preschoolers,
Scholarships for graduate, undergraduate and continuing education,
Materials including eBooks, and
Presentations, including the ever-popular Summer Reading Program.
These programs thrive only because of your generous donations to the Foundation. If you want to make a difference for your library you are not limited in your options. You can make a charitable gift to be used for programs or other resources, buy books through our Amazon Wish List, or volunteer your time as a committee or board member within the Foundation itself. These donations of time and money will substantively and positively impact your library system, and you can choose exactly the difference you want to make by designating how and where you want your donations to be used.
This past year, the Fairfax Library Foundation brought in over $110,000 at A Library Jubilee! The Jubilee is our largest annual fundraiser, with 100 percent of the proceeds going to the support of our library system. This year A Library Jubilee! will be held on October 18th at the City of Fairfax Regional Library. Mark your calendars and watch for further details! My goal is to make this event and all our programs even more successful with your substantial support.
My first year as Board Chair, following twenty years of service in the Navy as well as experience in other non-profits and volunteer groups, has convinced me that we must back up one another in order to succeed in any worthy cause. Every contribution that you make will be of abundant value to your libraries and your fellow library lovers, and by extension to yourself.
I pledge that your generous gifts and donations to the Fairfax Library Foundation will be used in the most efficient and effective ways possible to help sustain our precious library. Together we will ensure that the Fairfax County Public Library System — concurrently celebrating its 75th Anniversary — will continue to flourish to the mutual benefit of everyone in our community.
Thank you for your ongoing support!
Sincerely yours,

Brian D. Engler
Chair, Board of Directors